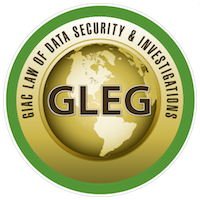 GIAC Law of Data Security & Investigations (GLEG)
Target
Security and IT Professionals, Lawyers, Paralegals, Auditors, Accountants, Technology Managers or Vendors. Anyone interested in the law of business, contracts, fraud, crime, IT security, IT liability and IT policy with a focus on electronically stored and transmitted records.
*No Specific training is required for any GIAC certification. There are many sources of information available regarding the certification objectives' knowledge areas. Practical experience is an option; there are also numerous books on the market covering Computer Information Security. Another option is any relevant courses from training providers, including SANS
Requirements
1 proctored exam
75 questions
Time limit of 2 hours
Minimum Passing Score of 70.7%
Note:
GIAC reserves the right to change the specifications for each certification without notice. Based on a scientific passing point study, the passing point for the GLEG exam has been determined to be 70.7% for all candidates receiving access to their certification attempts on or after October 7th, 2010. To verify the format and passing point of your specific certification attempt, read the Certification Information found in your account at https://exams.giac.org/pages/attempts.
Renew
Certifications must be renewed every 4 years.
Delivery
NOTE: All GIAC exams are delivered through proctored test centers and must be scheduled in advance.
GIAC certification attempts will be activated in your GIAC account after your application has been approved and according to the terms of your purchase. Details on delivery will be provided along with your registration confirmation upon payment. You will receive an email notification when your certification attempt has been activated in your account. You will have 120 days from the date of activation to complete your certification attempt. GIAC exams must be proctored through Pearson VUE. Please click the following link for instructions on How to Schedule Your GIAC Proctored Exam http://www.giac.org/information/schedule_proctored_exam.pdf. GIAC exams are delivered online through a standard web browser.
Bulletin (Part 2 of Candidate Handbook)
Exam Certification Objectives & Outcome Statements
The topic areas for each exam part follow:
Business Policies and Compliance

The candidate will be demonstrate familiarity with common regulatory compliance mandates, as well as developing IT security policies with defensibility in mind, and understanding the risks and legal impacts current and emerging technologies pose to information assets.

Contracts and Third Party Agreements

The candidate will demonstrate an understanding of how to protect an organization's information assets in all third party contracts and agreements, including terms of service, working with independent contractors, affiliates and data sharing, business services, online/web agreements and electronic signatures.

Data Retention and E-Discovery

The candidate will demonstrate understanding of E-Discovery and Record Retention laws and regulations, familiarity with high profile cases, and organizational controls used to comply with retention requirements.

Fraud and Misuse

The candidate will demonstrate an understanding of fraud and cyber crime laws, familiarity with high profile cases, and developing reports in response to cyber crime, forensics, incident response, and other types of investigations.

Intellectual Property

The candidate will demonstrate an understanding of the different types of Intellectual Property (IP), legal protections available, and risks to an organization's IP.

Privacy and PII

The candidate will demonstrate an understanding of Privacy laws and regulations, familiarity with high profile cases, liability issues, and responding to privacy breaches.
Where to Get Help
Training is available from a variety of resources including on line, course attendance at a live conference, and self study.
Practical experience is another way to ensure that you have mastered the skills necessary for certification. Many professionals have the experience to meet the certification objectives identified.
Finally, college level courses or study through another program may meet the needs for mastery.
The procedure to contest exam results can be found at https://www.giac.org/about/procedures/grievance.